Transition to the New ISO 22000:2018 Standard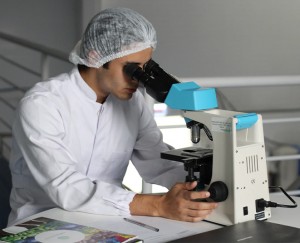 DATE AND TIME
06/05/2022 & 09:00 – 17:00
DURATION
7 Hours
STARTING PRICE
€150 + VAT (€28,50)
HRDA GRANT
€119
FINAL COST
€59,50
Tel
+357 22 317345
Email
info@foodtech.com.cy
Address
ATLANTICA MIRAMARE BEACH – LIMASSOL
INSTRUCTOR
Panayiotis Andreou
SCOPE
From the producer's field to the consumer's table, food safety is an issue that concerns them. Infection / deterioration due to lack of hygiene or food mismanagement leads to the spread of bacteria and consequently diseases, even death.
The way food is grown, transported, produced and consumed has changed significantly since the original standard was published a decade ago. The new model addresses these changes and aims to help organizations reduce food safety risks.
The new standard ISO 22000:2018 defines the requirements for organizations, in order to prove their ability to ensure food safety and the implementation of a management system (Food Safety Management System – FSMS), which includes effective procedures and optimal practices to improve food safety.
OBJECTIVE
Through the innovative training methodology offered by H.S.I Foodtech Laboratories LTD, participants are expected to:
1. Understand the new requirements and specifications of ISO 22000:2018, as they will be applied to the organization
2. Create a successful implementation plan by identifying threats and opportunities
3. Understand the importance of Food Safety Management
As a business leader you will learn to interpret and apply the basic concepts and principles of the standard to your organization's existing processes, which will result in:
1. Increase the trust and satisfaction of your customers through consistent provision of safe products
2. Compliance of your company with the relevant laws and regulations
3. Tackling business risks while focusing on business goals
interested participants
Food Safety Team Members, Food Technologists, Quality Managers, Food Production, Storage & Distribution Managers
SEMINAR PROGRAMME
06/05/2022
Time : 9:00 to 10:00
Duration : 1:00 Hour
Expectations from the seminar
The need for change
New legislative requirements
Customer requirements for systems implementation
Time : 10:00 to 11:00
Duration : 1:00 Hour
New structure: High Level Structure defined by Annex SL and common to all new ISO standards, facilitating an organization to integrate multiple Management Systems
Process approach with emphasis on effective management of processes and interactions to produce the desired results
Time : 11:00 to 11:15
Duration : 0:15 Minutes
Time : 11:15 to 12:15
Duration : 1:00 Hour
Risk Based Thinking (HACCP) approach introduces the concept of business risk, where opportunities are also part of the concept
PDCA cycle
Codex Alimentarius. Description of the concepts and differences between Critical Control Points (CCPs), Operational Prerequisite Programs (OPRPs) and Prerequisites (PRPs)
Time : 12:15 to 13:15
Duration : 1:00 Hour
Organization framework
Leadership and Employee Participation
Planning: Actions to address risks and opportunities, goals and plans to achieve them
Support: The resources required for the FSMS, staff competence and awareness, communication and documented information
Time : 13:15 to 13:45
Duration : 0:30 Minutes
Time : 13:45 to 14:45
Duration : 1:00 Hour
Function: Business Planning and Prerequisite Control (PRPs)
Traceability system, dealing with emergencies
Hazard control Update the information that sets prerequisites and the hazard control plan
Time : 14:45 to 15:45
Duration : 1:00 Hour
Monitoring and measurement control
Verification related to the prerequisites and the risk control plan
Control over non conformed products and processes
Performance / Vulnerability Assessment: Monitoring, Measurement, Analysis and Evaluation, Internal Inspections and Management Review
Improvement: Non-compliant and corrective actions, updating, continuous improvement
Time : 15:45 to 16:00
Duration : 0:15 Minutes
Time : 16:00 to 17:00
Duration : 1:00 Hour
Recording Requirement Recognition Techniques (Examples – Decision Tree – Food Safety Risk Assessmnet)
Determination of documentation requirements in the ISO 22000: 2018 Standard
The success factors for maintaining the system
Problems with recording and maintaning
Discussion and evaluation of the seminar
Notes
VAT is calculated on the initial pre-subsidized amount
In the case of cancellation of the participation, in less than 48 hours from the beginning of the
program, you will have to pay the amount of your participation in full
Payment terms: The full tuition for each participant are paid before the start of the seminar by check at
name h.s.i. Foodtech Laboratories Ltd
Special rates are offered for the unemployed and students